Garcia's is a tiny place on the corner of Fredericksburg and W Craig. The orange exterior and cock fighting velvet paintings (see below) hanging on the interior make this a lively place to grab a bite. This place is also very close to my house, so it's another spot that my family frequents.
Garcia's Mexican Food To Go
842 Fredericksburg Rd
-
(210) 735-4525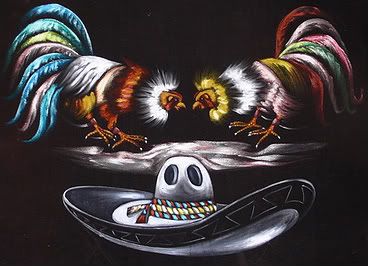 My husband went to pick up the food this morning. As he arrived the food it was being put in the paper bag. In my experience it takes a little longer at Garcia's than other restaurants, but the wait is so worth it.
I selected a Bean and Rice and Potato, Egg, and Cheese this morning. They included a few little cups of their green salsa. I sat down , unwrapped the foil, uncapped the salsa, dipped the taco and took the first bite.
I chose to start with the Bean and Rice. The tortillas at Garcia's are hand made and perfect. Chewy, soft, stretchy, pliable. They are very very tasty tortillas indeed. I'm not sure if the corn are hand made, but the flour are heavenly. The beans had a wonderful flavor and texture. I could actually tell that the beans were refried by hand, as they had a slightly lumpy consistency and the skins were discernible. The rice was fluffy and firm, yet yielding. An absolutley perfect accompaniment to the beans.
The salsa was a bright green with wonderful fresh flavor. It was pretty spicy. Two dips into the salsa cup had my mouth pretty warm throughout the entire meal.
The Potato with Egg and Cheese was delightful. There was not a terrible amount of flavor in the eggs, but the potatoes were cut very small and cooked until they were soft. They were mixed well together. Garcia's uses Cheddar cheese, though, which makes up for the lack of seasoning.
Neither of the tacos was greasy. They were fresh and tasty. Garcia's does not offer sweet tea, however, and the parking leaves something to be desired. There is a lot of variety offered at this local favorite and they have won their fair share of awards for their cooking. Vegetarians beware, some of the offerings are made with meat seasonings, and I believe the enchilada sauce is meat gravy.
My husband's favorite taco from Garcia's is the fresh Brisket with Guacamole. The house behind the restaurant has a BBQ pit in the back yard. They cook the brisket daily. If you're a meat eater, this is a highly recommended taco to try.
Overall, the tacos were excellent. The only improvements that I could think of would be free chips with lunch and dinner and the availability of sweet iced tea. Other than that, this is taco bliss.
I give them 3 1/2 out of 5 tacos.